Hours per week 3 - 5

Levels 7

British English
Sign Up to English New Edition is a fully-updated and improved version of the best seller Sign Up to English, a four-level (in its full edition) or seven-level (in its split edition version) series specially designed for teenagers studying English as a foreign language. It takes learners from a beginner or false beginner to a preintermediate level.
Sign Up to English New Edition has been fully redesigned and updated:
The lesson layout now looks more modern, clean, clear and dynamic.
NEW icons have been designed for listening, speaking, reading and social emotional skills and interactive activities icons for easy reference.
Topics have NOW been updated and specially chosen for the teenager of today's world.
There is now a NEW focus on the development of 21st Century Skills: critical thinking, creativity, collaboration and communication.
MORE collaborative pair-work and group activities.
MORE textual genre variety: articles, chats, posts, comics, interviews and others.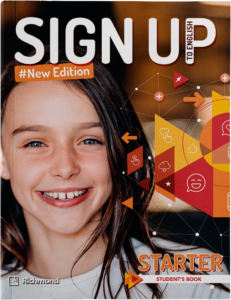 Student's Book
Learn more about Sign up to English – New Edition:
Student's Book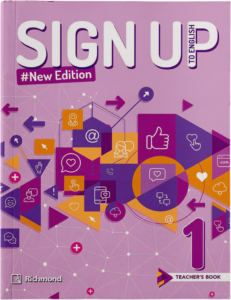 Teacher's Book
Learn more about Sign up to English – New Edition:
Teacher's Book
ISBN
For Students
Level Starter
Level 1
Level 1A - Split edition
Level 1B - Split edition
Level 2
Level 2A - Split edition
Level 2B - Split edition
Level 3
Level 3A - Split edition
Level 3B - Split edition
Student's Book + Work Book Pack
9789504660811
9789504660828
9789504661917
9789504661924
9789504661931
9789504661948
9789504661955
9789504664666
9789504665854
9789504665861
Digital Book
9789504662037
9789504662020
NO TIENE
NO TIENE
9789504662952
NO TIENE
NO TIENE
9789504667063
NO TIENE
NO TIENE
For Teachers
Level Starter
Level 1
Level 2
Level 3
Teacher's Book Pack
9789504661177
9789504661979
NO TIENE
NO TIENE
9789504661962
NO TIENE
NO TIENE
No tiene. Es digital, descargable.
NO TIENE
NO TIENE