Hours per week 3-5

Levels 4

British English
Stopwatch is a motivating, visually-engaging series for teenagers. It offers a choice of entry-point level (Starter or Beginner ) and develops skills through to B1 of the Common European Framework (CEFR). Its unique four-level (full edition) or sevenlevel (split edition) structure allows schools to fine tune their selection according to the specific needs and abilities oftheir students.
Sample unit

Scope & sequence

Extra samples
With Stopwatch, students will:
Engage with authentic, down-to-earth topics.
Develop visual literacy skills through icons and high-impact photos.
Enhance their critical thinking skills by answering relevant, thought-provoking questions.
Develop an awareness of cultural diversity in the global community.
Be motivated by timed activities and challenges
Enjoy hands-on projects and practice in print and digital formats.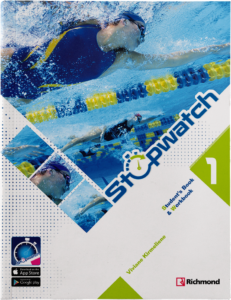 Student's Book & Workbook
Learn more about Stopwatch:
Student's Book & Workbook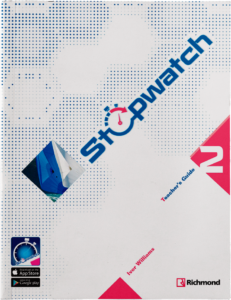 Teacher's Guide
Learn more about Stopwatch:
Teacher's Guide
ISBN
For Students
Level Starter
Level 1
Level 1A - Split edition
Level 1B - Split edition
Level 2
Level 2A - Split edition
Level 2B - Split edition
Level 3
Level 3A - Split edition
Level 3B - Split edition
Student's Book + Work Book
9789504652724
9789504654155
9789504654407
9789504654414
9789504654162
9789504654421
9789504654438
9789504654179
9789504654445
9789504654452
Digital Book
9789504655435
9789504655442
NO TIENE
NO TIENE
9789504655459
NO TIENE
NO TIENE
9789504655466
NO TIENE
NO TIENE
For Teachers
Level Starter
Level 1
Level 2
Level 3
Teacher's Book
9789504652731
9789504654186
NO TIENE
NO TIENE
9789504654193
NO TIENE
NO TIENE
9789504654209
NO TIENE
NO TIENE