Hours per week 1-3

Levels 3

British English
Cool Kids is a three-level series for primary school students. It caters for different learning styles by proiding Discovery activities and consolidation practice on Grammar and Vocabulary. Cool Kids fosters students' participation through simple listening and speaking tasks, writing assignments and Project Work activities. Games, mini projects and songs contribute to revising the key issues in every unit. The Cool Kids' Corner section offers possibilities to further develop Reading skills and vocabulary.
Sample unit

Scope & sequence

Extra samples
Key features
Cool kids is a series for pre-teens that…
Caters for different learning styles.
Promotes discovery learning and values.
Encourages students' participation.
Fosters learner autonomy.
Enhances creativity and problem-solving skills.
Leans on the Inductive Grammar Method and uses the Communicative Approach.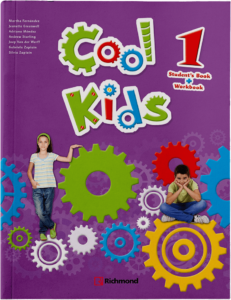 Student's Book with a built-in workbook
RLP
Learn more about Cool Kids:
Student's Book with a built-in workbook
Learn more about Cool Kids:
RLP
We combine the Student's CD, the Workbook, Cool Reading, and interactive language games, on our cool RLP, to give your students an interactive self-study experience! They can listen to the audio online (or download it to an offline device) to fill in their Pictionaries or review their work; complete the Workbook, including the extra listening activities, completely interactively – which you can assign online for homework and track automatically in your Markbook; read their Cool Reading stories; and review grammar and vocabulary as they have fun with the interactive games!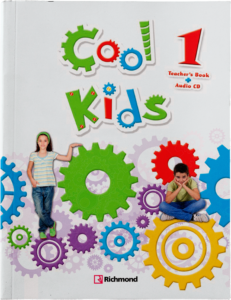 Teacher's Book + Audio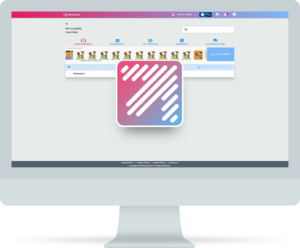 RLP
Learn more about Cool Kids:
Teacher's Book + Audio
Learn more about Cool Kids:
RLP
The Cool Kids RLP is your digital command control center! We give you a digital combination of all the audio, your Teacher's Resource CD with downloadable visual aids, Cool Reading, the Workbook, projectable Flashcards and Posters, interactive language games, and an online assessment package – all on one cool website! You can also flip through digital versions of all the print books, track your students' performance in the interactive activities – including the online Workbook – through your Markbook, assign homework material, and manage tests!
ISBN
| For Students | Level 1 | Level 2 | Level 3 |
| --- | --- | --- | --- |
| Student's Book + Workbook | 9789504642640 | 9789504645030 | 9789504647676 |
| Digital Book | 9789504644910 | 9789504645580 | 9789504648376 |
| For Teachers | Level 1 | Level 2 | Level 3 |
| Teacher's Book | 9789504642718 | 9789504647348 | 9789504648253 |