Hours per week 1-3

Levels 5

British English
Kids' Web Second Edition is an updated and improved version of the best-seller Kids' Web, an English language series for the early years of primary school that connects students with the world of English speakers in a modern, fun and meaningful way. Designed to accompany children at every stage of their intellectual development, the course has been tailored to meet different goals at each level. This Second Edition combines the essence of the original version with various innovations.
Key features of Kids' Web:
Communicative and collaborative approach, which promotes the practice of the four skills.
Work with interdisciplinarity: CLIL, Life Skills and Socio-emotional Competences.
Greater role of the character Webby and his gang.
Work with textual genres.
Kids' Web Home Connection in Spanish with suggestions on how parents can participate in the children's learning process.
QR codes that take students to digital educational objects.
Socio-emotional animations for the integral development of the child as a whole.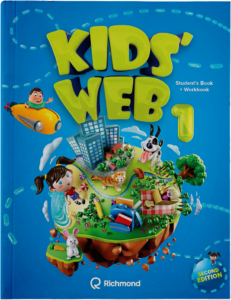 Student's Book with integrated Workbook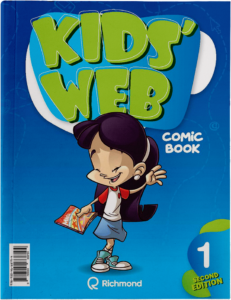 Comic Book
Learn more about Kids' Web Second Edition:
Student's Book with integrated Workbook
Learn more about Kids' Web Second Edition:
Comic Book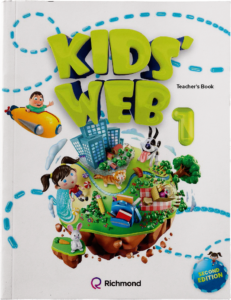 Teacher's Book
Learn more about Kids' Web Second Edition:
Teacher's Book
ISBN
| For Students | Level 1 | Level 2 | Level 3 |
| --- | --- | --- | --- |
| Course Book Pack (SB+WB+Comic Book) | 9789504668794 | 9789504669548 | 9789504669920 |
| For Teachers | Level 1 | Level 2 | Level 3 |
| Teacher's Book | No tiene ISBN. Es digital, descargable | No tiene ISBN. Es digital, descargable | No tiene ISBN. Es digital, descargable |